Time Out with Fred Flare's Press Manager:
Chris Bick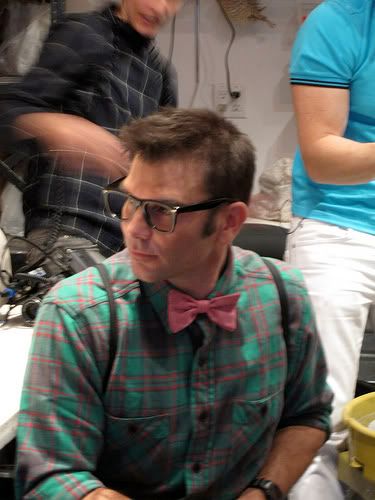 It's no secret that we can't resist a little bit of
Fred
now and then. With trinkets and doo-dads that you never knew you needed, but are too cute to resist pasted all over their website, it's a suprise we've manage to refrain from buying out the whole store. Now that Fred Flare has added their Cute store in New York to the mix, we just knew we has to get in touch with the guy behind the adorable ads of Fred Flare,
Chris Bick
, for a little Q& A.
Favorite decade?
Such a tough question! 20's for the flappers, 60's for the crisp suits and pencil skirts, 80's for shoulder pads and Madonna and 90's for the grunge
Favorite designer?
Marc Jacobs, Proenza Schouler, Mary-Kate and Ashley Olsen, Alexander Wang, so many on this list!!
Top 5 song playlist?
Diva smackdown... Anything by Madonna, Anything by Beyoncé, Anything by Lady Gaga, Anything by Mariah Carey, Any top 10 hit from the 90's
Favorite food?
Cupcakes. Duh.
(DUH!)
Favorite party outfit?
Hmmm. For boys: Rolled slacks, crispy shirt, bow-tie, black frame glasses and a vest. For girls: High waisted tapered pants, striped crop top, blazer, chunky / layered necklace, side braided hair, Brian Atwood nude platform patent leather shoes... SIGH.
Favorite fabric?
cashmere or cotton!
Favorite city?
PARIS / New York
Favorite wardrobe essential?
Heels! HIGH PLATFORM HEELS!
Famous last words?
Strike a pose...
Fred Flare
, named after the fabulously flamboyant dancer, Fred Astaire, has GOT TO be the cutest place in town. If everyone's as bubbly as Chris, I think we've found our first intership inquiries...we just hope that we aren't required to wear green plaid or white plunging v-necks for the job.
Bisous,
Rebecca&Maddy