Dorothee center A/W 2009
Dorothee Schumacher doesn't believe in advertising...yet somehow her looks have popped up in everything from VOGUE to INSTYLE.

When most designers these days are scrambling to place their names on anything from fragrances to home décor, Dorothee spends her time developing personal relationships with her clientele. She personally invites her clients to all of her parties and events, and the invitations are passed by word of mouth. This seemingly slow method of promotion may seem to be a risky business move, but her strategy seems to have worked.

As a result, Schumacher's clients are extremely loyal and the brand has been regarded as "one of the best kept secrets among fashion editors." They opened the Berlin Fashion Week A/W 2010 with a "rebel-themed" collection, featuring classic items such as the tweed jacket given modern twists such as metallic finishes and voluminous collars.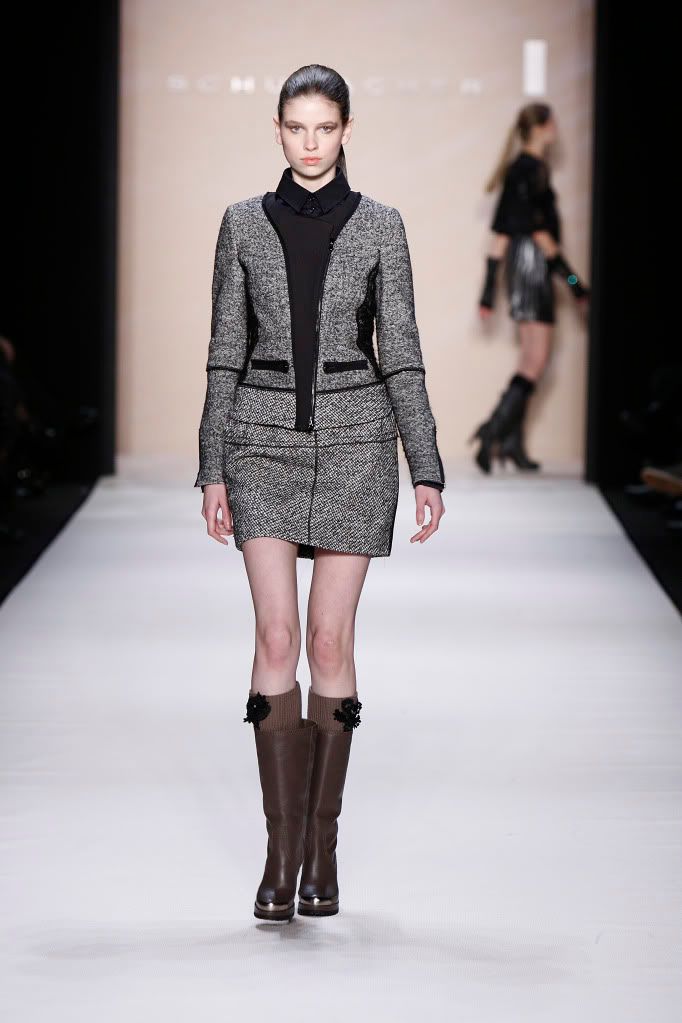 Our visit to the Schumacher showroom was the highlight of our trip to
Berlin Fashion Week A/W 2010
. Although we were thirty minutes late to our interview due to the ridiculous traffic, Dorothee and her assistant Shola greeted us immediately with huge bear hugs and insisted that we drink hot tea after feeling our frozen fingers. We munched on tasty pastries while we toured their fabulous A/W collection the day after their runway show. The collection showed an incredible amount of attention to detail. Even their sporty tank tops were given unexpected twists, with their fur-trimmed shoulders. Delicate fabrics such as lace and silk were paired together with leather. The clothes, beautiful and designed for the open-minded and modern women, were comfortable, classy, and exciting a la fois. We sat down with Dorothee to hear the story behind the label and image that is
Schumacher.
La société de mode:
Schumacher just recently celebrated its 20th anniversary. How does it feel to be one of the front-runners of Berlin Fashion Week today, and did you ever imagine yourself in this position?
Dorothee Schumacher:
Today Schumacher is much bigger than I thought [it would ever be] 20 years ago. However I always knew we wanted to do wearable fashion, which makes women feel good and makes them smile.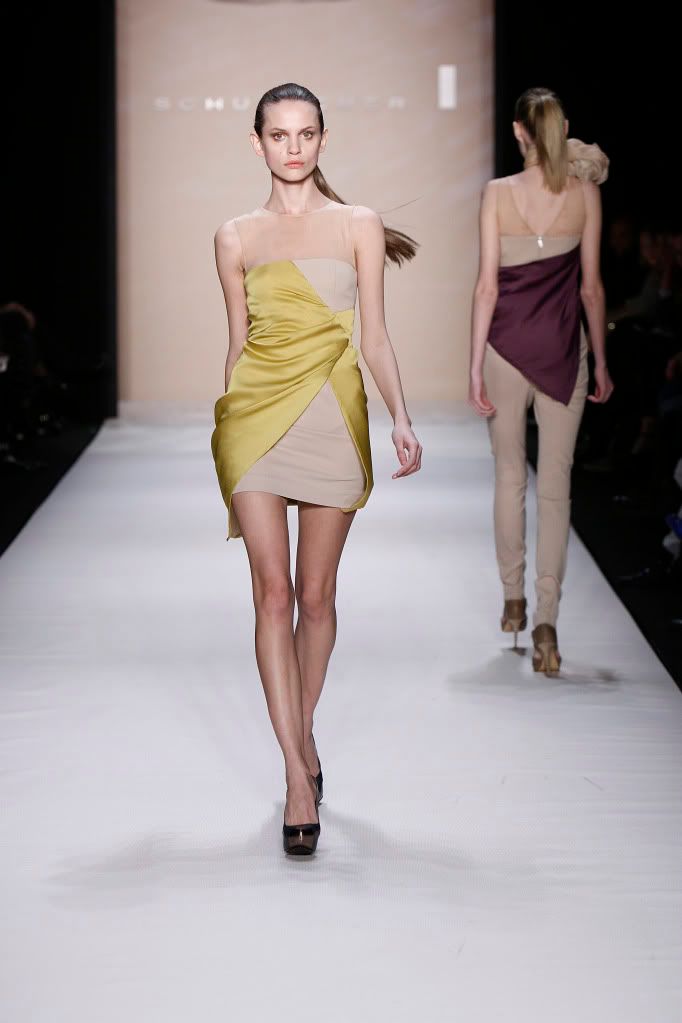 LSDM:
Did you receive a formal college education, or did you have more of a hands-on experience?
DS
: I never had formal training. I knew already when I was young that I wanted to work in fashion. I went to Italy to learn the language. I knew I had to learn Italian because fashion came out of Italy. My parents told me I could go to Italy they said they'd support me if I did training in a luxury house which I did, and I'm so happy I did this because I could SEE the idea behind retail. I learned organization and learned about women and what kind of women who buy fashion. The feedback today is wonderful. Wearable came back from this type of education that she had.
LSDM:
It seems like the Italian ateliers have influenced your design aesthetic a lot. However your company is still based in Germany. Do you still feel attached to your native land?
DS:
Germany is still home for me. Berlin is a big city, but the workspace is so private, its cozy and we need that. However our company is not sold here, it's just a meeting place. Our headquarters are in Mannheim.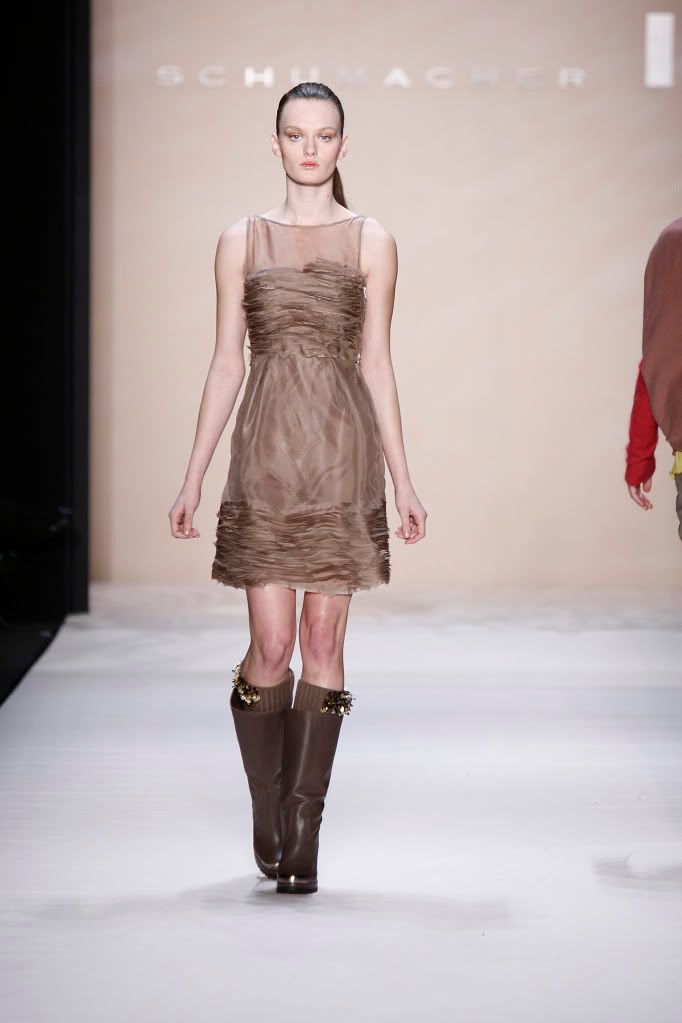 LDSM:
Do you have any muses for your designs, are there any women that you consider to embody the ideals of Schumacher?
DS:
Carla was so elegant [before serving as France's first lady] and at the same time humorous. She was naturally easy and professional, friendly and simply wonderful."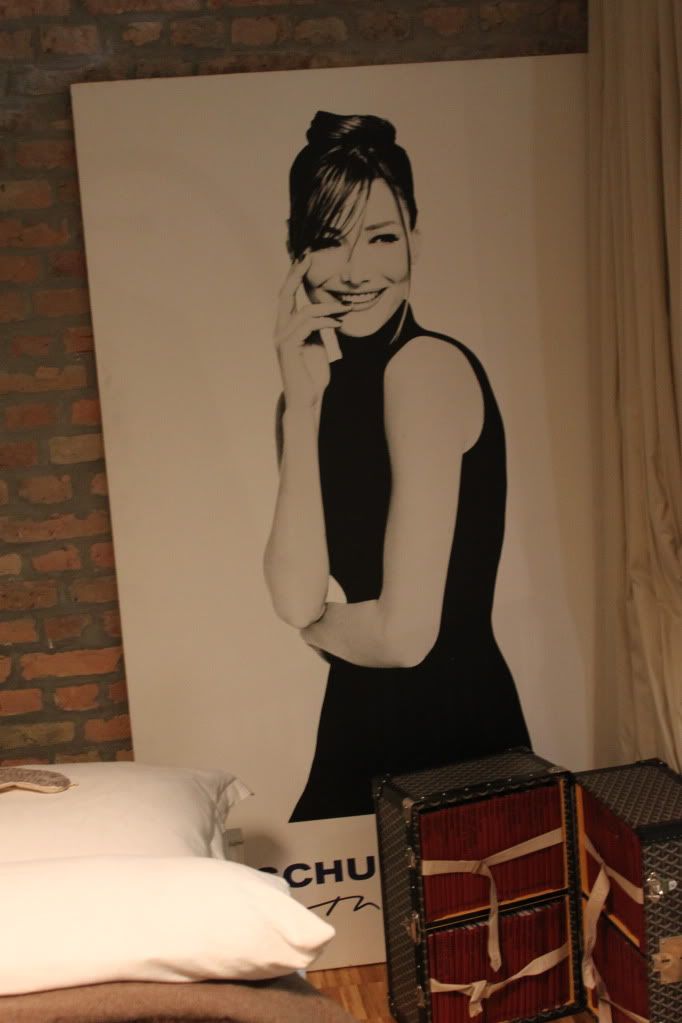 LSDM:
Obviously not advertising your brand may be seen as a risky business move to some. How did you not give into the pressure to place advertisements in magazines and billboards?
DS:
The word of mouth is so much stronger than advertising. We do something so much stronger. If one woman tells her best friend…that's something. One paper cannot express it. We are personal, first and foremost.
LSDM:
Well spoken. It seems like you develop such a close relationship with each of your clients. Are there any last words you'd like to share with them?
DS:
Trust yourself and play with your feminine side. I would like to tell women that. We are so focused and we are so successful and now we have to learn not to hide the feminine side. It's out weapon. It's our prize.
Darn right it's our prize: a prize easily enhanced by Tiffany's jewelry and designer dresses! To see more fabulous Dorothee-isms check out the Schumacher website at
http://www.schumacher.de/
Until Wednesday,
Rebecca&Maddy